Current Mood:

calm
banner by
dizzojay
It has been four years since
spn_bigpretzel started the tradition of hosting a Spring Fic Exchange and it has become one of the hallmarks of that community!
The Author sign-ups for this year's exchange have begun (Artist will sign up at a later date). For more details, or if you want to sign up, then
come on over to the Big Pretzel
and see what all the fuss is about!
banner by
mamapranayama
One of my co-mods, the King of Hell himself, is hosting a Holiday Wish List Exchange over at
spn_bigpretzel.

(Remind me again
dizzojay,
mamapranayama and
lolaann1 why we ever agreed to letting him help run the comm in the first place?)

Anyway, head on over there to make a wish or grant a wish. You know you want to!
Happy Thanksgiving everyone! I know I haven't been around here much lately. Mostly because real life and work have been absolutely crazy. I hope that will change soon. But I do have a lot to be thankful for. I hope you all have a wonderful day whether celebrate this holiday or not. And I hope to have more here soon.
I don't think I've ever been more nervous for my city.
Crowley's Covert Christmas Fic Exchange!!

banner by
dizzojay


Of course, anyone dealing with Crowley should know well enough to check contract for the fine print.
quickreaver
Hey, gang. You know how fed up you get with fandom wank sometimes? I know I do. But here's a small thing we can do that might cause a bigger ripple.
Spearheaded by
honeylocusttree
,
this Thunderclap
is a way we can potentially shine a light on being KIND instead of crotchety towards each other in fandom.
Being a part of a fandom can impact your life far more than expected. We find ourselves relating to the characters more deeply, we meet folks that turn into genuine friends, we participate in charity events that make the world better, spurred on by our fandom relations...see how it goes? But it can get vitriolic too, for a whole host of reasons.
This simple reminder, trying to take one day to sit back and do nothing but be patient and tolerant and wank-free, is a step in the right direction. That's all it is! No donations, no nuthin' but a promise to can the wank for one...single...day.
Easy, right? July 12 is that day. Sign up
HERE
.
Originally posted by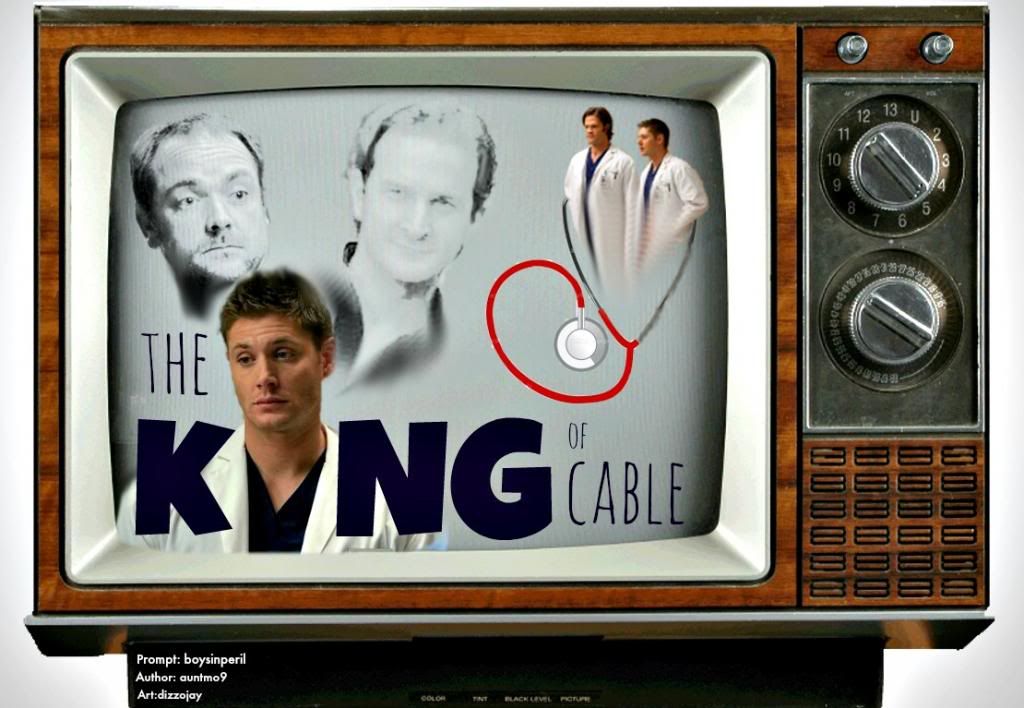 Author:
auntmo9
Artist:
dizzojay
Recipient:
spn_bigpretzel
Original Prompt: from boysinperil: Growing up in hotels made Dean an expert in bad television. What's his most guilty secret?
Title: The King of Cable
Rating: PG-13 for language
Spoilers/Warnings: Takes places in a non-specific time at the end of Season 8/beginning of season 9,where Crowley is being held at the Batcave but no other mentions any other season 9 activities. Also, Gabriel is alive.
Synopsis: A stormy night has the boys holed up in the Batcave. Unfortunately, they have Crowley for company, and he won't keep his mouth shut, so Dean decides to engage in some of his guilty pleasures…food and television. But that doesn't keep Crowley's mouth shut, and before he knows it, Sam is entertaining the demon with stories of the television that Dean has watched and the TV doctors he has loved.
Thank you to my wonderful artist and co-mod,
dizzojay for working with an incomplete fic and yet turning out a piece that goes so well with the story. And thank you to
tari_roo and
zelda_addict for the beta work on this story and for
ramblin_rosie for allowing me to bounce ideas off of her.
This story was prompted by boysinperil and was originally intended for her but she was unable to finish the Spring Fic Exchange. So as a Thank You to all the authors, artists, betas, cheerleaders and commenters, this is for the entire community! You guys are why the mods work so hard to make this a fun place to be! We come here each day because we know you want to be here, too!
(
The King of Cable
Collapse
)
Current Mood:

frustrated